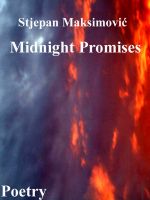 Written: © Maxima
Midnight Promises
By Stjepan Maksimović
Published: Sep. 19, 2013
Words: 4,480 (approximate)
Language: English
ISBN: 9781301858132
Midnight Promises
To Be is an excellent book about love and nighttime promises. The poems in this book, or even better, the words in this book are a gift to all those souls who yearn for love, tenderness, care and the fulfillment of love, ready for both giving and receiving. Ready for, as the poet Stjepan Maksimović expresses in the poetic sayings of his book:
"Your imagination is woven with threads of gold
In the tender movement
Kissing deep sighs,
And angelic beauty
In your own world of love
Beautiful to be happy
And make my world
The world of your bright shadow
And angelic beauty in your
Own world of love"
Love is beautiful and blind. Full of deeply felt emotions and sensations: smells, giving, permeation, reciprocity, transcendence – just as in the verses between the covers of this truly valuable book – as if a mysterious golden thread once lived in our hearts, weaving a fine lifelong web giving the world new life, a new passionate and tender meaning so beautifully expressed by Stjepan Maksimović in his verses. His words are gifted with all the elements that people seek in life – fulfillment of love, both giving and receiving. Each of Stjepan's eloquent poems are the "stuff" of which dreams are made. We all desire to be cherished and loved unconditionally, yet passionately and tenderly as well.
In this, his first anthology of love poems, you will sample some of the best of his poems of love! Beautiful photographic illustrations further enhance his poetic words.
Enjoy the beauty and love found on each page of this wonderful book, I know I will,
Thank you,
Penny L Howe